İstanbul günlerdir bembeyaz, sakin, huzurlu, sessiz…
Ülkemizin içinden geçtiği ızdıraplı süreci düşündüğümüzde bu kar sanki tam zamanında, adeta bir ilaç gibi ruhlarımıza yağdı, şifa oldu. Etraftaki sessizlik ve tertemiz örtü ruhlarımızı arındırdı, dinlendirdi, bir parça da olsa dinginleştirdi.
Cumartesi sabahı ilk uyandığımda kendime bir fincan kahve yaptım. Camı açıp temiz havayı içime çektim. Sonrasında karlar içinde yürüyüş yaptım. Çok iyi geldi.
Istanbul is heavily and heavenly covered with snow for the past couple of days and this magical view has calmed our souls down a little bit after all the attacks you may have probably seen on your TVs or read from the newspapers… 
The first thing I did was to prepare myself a cup of black coffee, open the window and take a deep breath. Later I enjoyed the snow-filled streets, and relaxed myself a little bit.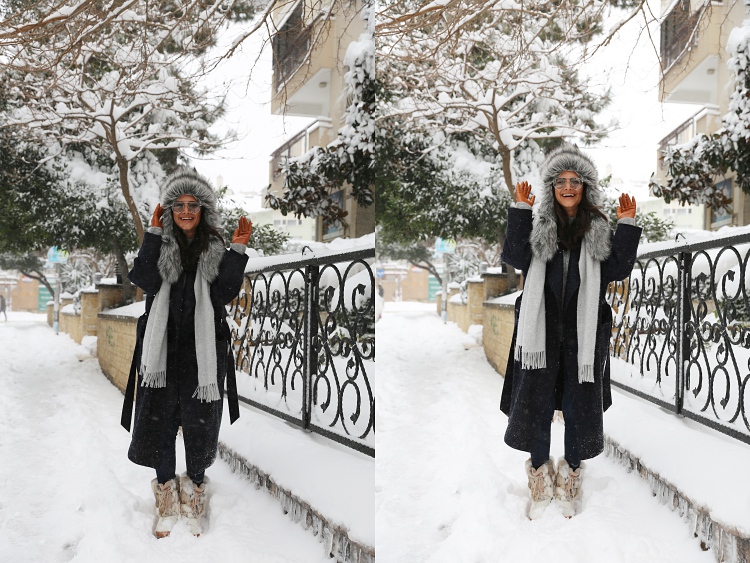 İlk gün lacivert ve griler içindeyim. Bu tüylü şapka Instagram'da çok soruldu. Bilstore'dan geçen kış almıştım ama markasını hatırlayamıyorum. Yün kaban, kazak ve deri eldivenlerim H&M, atkım Cos, gözlüklerim ise Vedi Vero. Botları da geçen kış Vepa62'den almıştım. Markası New Italia.
Day I Wearing
Faux fur hat from Bilstore (do not remember the exact label), H&M wool coat, jumper and leather gloves, Cos scarf, Vedi Vero shades, New Italia boots from Vepa62.
İkinci gün kahverengi ve siyahlar içindeyim. Sezonun başından beri beğenip bir türlü almadığım botları bir gün önce Nine West'e gidip alıp hemen ertesi gün giydim. Ki ben normalde herşeyi saklarım, yeni aldığım birşeyi hemen kullanamam, giyemem. Ne tuhaf bir huysa… Paltom yine her giydiğimde Instagram'dan sonsuz yorum ve soru alıyor. H&M'den almıştım, Bağdat Caddesi'ndeki mağazasından. Üzerimdeki 34 beden. Ancak model aşırı oversize olduğu için yine böyle büyük duruyor. Ki ben normalde oversize duruşu çok sevdiğim için bir iki beden büyük tercihler yaparım. Bu palto sanırım geldiği gibi tükendi. Gidip de bulamayanlar bana kızmasın. Gözlüklerim Kaleos, çoraplar Timberland. İçimdeki kazak bir gün önce giydiğim gri kazağın aynısının siyahı. Beremi de Barcelona'daki Natura mağazasından almıştım.
Day II Wearing
H&M AW16-17 wool coat, Natura beanie, Kaleos shades, Burberry scarf, Nine West boots.