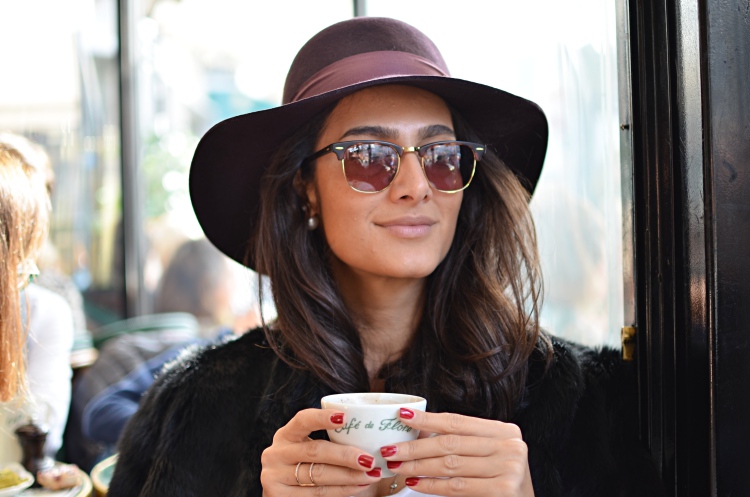 Paris'te bir turist olarak en keyif aldığım café'leri sizlerle paylaşmak istedim. Her gittiğimde farklı yerlerde kahve molası versem de yıllardır değişmeyen yerlerim var. Umarım sizler de bir sonraki ziyaretinizde bu adreslerden birine uğrar, benim yerime de Paris'in tadını çıkartırsınız.
I would like to share my favourite coffee break spots in Paris with you. Each time I am there, I try different cafés but these listed one are my all time favourites. Hope you enjoy them as much as I do next time you are in Paris.
1. Café de Flore :
Saint-Germain-des-Pres'de vazgeçilmezim. Sabah kahvaltısı, öğle yemeği, sabah ya da öğle kahvesi için mükemmel. Akşamüstü şarap ve çerez keyfi için de birebir.
This place is my all time fave in Saint Germain area. It is a super choice for breakfast or a quick lunch break or morning and afternoon coffee. You can also stop by for an early evening wine and chips.
172 Boulevard Saint-Germain, 75006 Paris
2. Les Deux Magots :
İlk tercihim her daim Flore olsa da canım tatlı istediğinde Pierre Herme servis ettikleri için Les Deux Magots'ya kaçıyorum.
Although my first choice is always Flore, when I have a sweet tooth, I always go to Les Deux Magots as they serve Pierre Herme dessert.
6 Place Saint-Germain des Prés, 75006 Paris
3. Ralph's
Yine Saint Germain'deyseniz Ralph Lauren'in içinde bulunan Ralph's'te bir kahve ve karamelli popcorn molası verebilirsiniz. Ayrıca burada çok iyi hamburger de yiyebilirsiniz. Yemek için rezervasyon gerekebiliyor.
If you are again in Saint Germain area, you can have a coffee and caramel popcorn break at Ralph's which is located in the centre of Ralph Lauren store. They also have the pretty delish burgers but do not forget to make reservations prior to your arrival.
173 Boulevard Saint-Germain, 75006 Paris
4. Merci
Le Marais bölgesine giderseniz eğer, Paris'in en iyi konsept mağazalarından olan Merci'ye mutlaka uğrayın ve kitaplık cafesinde bir kahve molası verin.
Merci is one of the most well known concept stores in Paris and they have a cute library-cafe inside of the store. You will love it!
Boulevard Beaumarchais, 75003 Paris
5. L'Avenue
Avenue Montaigne üzerinde genellikle bolca Türk ve de uluslararası ünlü ile karşılaşabileceğiniz restoran. Ben genellikle sabah saatlerinde daha keyifli buluyorum.
L'Avenue is the best place to spot a lot of international celebrities. And also Turkish tourists love this place so much. I prefer L'Avenue better in the morning hours.
41 Avenue Montaigne, 75008 Paris
6. Hotel Costes
Avlusu oldukça keyifli olan ikonik bir mekan. Hayli şık ve parizyen. Saint Honore'deki alışveriş turundan sonra burada soluklanabilirsiniz.
The backyard of the iconic Hotel Costes is a very lovely place to have a coffee break after having a shopping spree at Saint Honore.
239-241 Rue Saint Honoré, 75001 Paris
7. Le Hibou
Paris'te okuyan çok sevdiğim bir arkadaşım sayesinde son Paris ziyaretinde keşfettiğim ve son dönemin en yükselişte olan mekanı. Ben kahve için uğradım ancak yemekleri ve akşam içkisi için de hayli keyifli bir alternatif. Bloggerlar ve lokaller burayı pek seviyormuş.
One of my friends who studies in Paris recommended me this place and I enjoyed a coffee break here during my latest trip. This place is highly recommended for its food and drinks as well. Bloggers and locals love this place.


16 carrefour de l'Odéon, 75006 Paris
8. Matignon
Sabah 8:00'den gece 2:00'ye kadar açık olan, öğlen ya da akşam yemeği, kahve keyfi, gece eğlencesi için aklıma ilk gelen yerlerin başında gelen keyifli ve şık mekan. Mutlaka listenize ekleyin derim. Burası da L'Avenue gibi daha şık ve de ünlü isim görme ihtimalinin hayli yüksek olduğu bir yer.
Matignon is one of my favourite spots for lunch or dinner, a lovely coffee break and going out at night. It is highly chic and celebrity-friendly just like L'Avenue.


3 Avenue Matignon, 75008 Paris



9. Tasca
Son Paris seyahatimde keşfettiğim yerlerden biri daha. Yine Paris'te yaşayan bir başka arkadaşım sayesinde keşfettiğim bu tatlı Portekiz yemekleri yapan yere bir sonraki sefer tekrar gidiyor olacağımdan emin olabilirsiniz. Kahvenizin yanına bir de pastel de nata sipariş etmeyi unutmayın.
This is one of the latest discoveries during my latest Paris trip thanks to one of my Parisian friends. This restaurant serves great Portugese cuisine. Do not forget to order pastel de nata with your coffee.
37 Rue du Roi de Sicile, 75004 Paris
10. Angelina
Louvre müzesinin yakınında, Paris'in en eski pastanelerinden biri. Paris'in en iyi sıcak çikolatasının Angelina'da olduğu söyleniyor. Benim favorim Flore'daki ama buradakini de denemiş olun bence.
One of the oldest patisseries in Paris, said to be serving the most delicious hot chocolate in town. I prefer Flore's hot chocolate but you do not want to go back home without tasting Angelina's.
226 Rue de Rivoli, 75001 Paris

Photos taken from Google