Lancôme ile yepyeni bir yolculuğa adım atıyoruz.
Söz konusu cilt bakımı olduğunda yeni ürünler keşfetmeyi ve sizlerle paylaşmayı gerçekten çok seviyorum, biliyorsunuz. Instagram sayfamda da görmüş olabileceğiniz üzere bu sefer de Lancôme'un en yenisi, tek ürünle gece ve gündüz bakım imkanı sağlayan çok amaçlı Visionnaire Krem'i dört hafta boyunca kullanarak deneyimlerimi sizlerle paylaşıyor olacağım.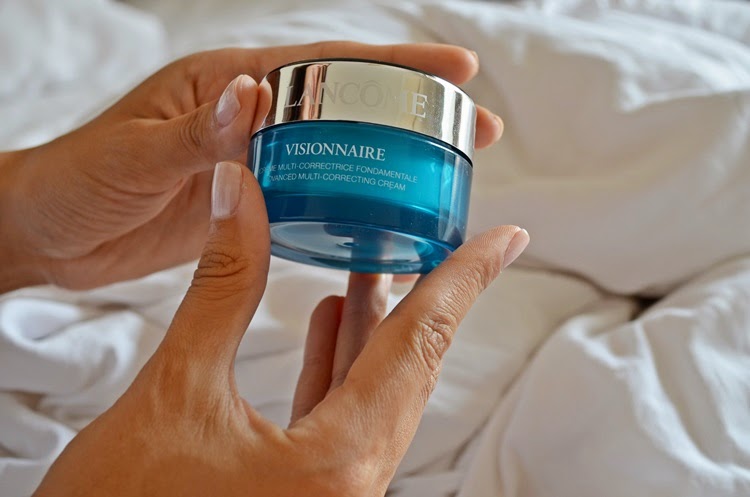 Visionnaire ile ilk kez hayranı olduğum Daria Werbowy'nin marka yüzü olduğu reklamlarda karşılaştım. Daria'nın cildi zaten mükemmelliğin hayat bulmuş hali gibi.. Yapılan araştırmalara göre deneyen her on kadından birinin kullandıkları en iyi yüz kreminin Visionnaire olduğunu ve araştırmaya katılan kadınların %90'ının yüzü için tek bir ürün kullansalar bunun Visionnaire olacağını söylemeleri de açıkçası merakımı arttırdı.
Visionnaire kremi kullanmaya başladığım ilk haftanın sonunda benim gözle gördüğüm etki cildimin ciddi oranda neme doymuş ve ışıltılı bir hal almış olduğu yönünde. Bu etkiyi bu post için çekim yaparken de iyiden iyiye farkettim. Eğer cilt yeteri kadar nemli olursa gerçekten ışıldıyor.
Unutmayalım, kurursa kırışır! Bu sebeple cildimizi nemli tutmak ilk altın kuralımız. 27 yaşına girdiğim bu sene bu kuralın altını kendim için de dikkatle çizmem gerektiğini çok daha iyi anlamış bulunuyorum.
Visionnaire serüvenime ortak olmak ve sürprizleri yakalamak için beni ve Lancôme Türkiye hesabını instagram üzerinden takibe almayı unutmayın!
@ruyabuyuktetik
@lancometurkey
Here we go, starting a new journey
with one of my favorite labels, Lancôme.
You know how much I love to discover
skincare products and share my experiences with you. This time I will be
testing the new multifunctional Lancôme Visionnaire cream for the next
four weeks and step by step I will share my points with you.
The first time I came across this
product was via the advertorial with the beautiful Daria Werbowy. Her skin is
the definition of flawless beauty. And after learning nine among ten women who
experienced this product nominated it as the best cream that they ever used and
90% of the women would choose Visionnaire if they had to pick only one skincare
product, my curiosity peaked.
After using Visionnaire for the first week, I can tell you that my skin is more moisturized
and definitely looks more illuminated. I realized this much more while I was
shooting for this post as well. If the skin is moisturized, it really shines
out!
Ladies, do not forget
this rule; if it dries, it wrinkles. So we should always keep our skin
moisturized. This is the golden rule! As I am 27 as of this year, I really have to highlight this for you and for myself as well.
To be a part of this
journey and not to miss the surprises, do not forget to follow me,
@ruyabuyuktetik and Lancôme Turkey @lancometurkey on
instagram!